Pick-up and delivery service
Pick-up and delivery service
SuperNette dry cleaner runs its route daily in and around Amsterdam.
Do you not have the time or opportunity to bring your laundry, steam and / or ironing to us? Or is it simply not possible, because you want to have heavy curtains or a carpet cleaned?
We collect your laundry, steam and / or iron (possibly with clothing repair) from companies and private customers. All your laundry, steam and / or ironing is cleaned in our environmentally friendly machines and after cleaning the textile everything is neatly packed, after which we return all your laundry, steam and / or ironing to your company or home .
Simple, fast and easy!
Would you like to use our collection and delivery service? Then you can place your order directly online via this link: www.stomerijsupernette.nl/bestellen/
Or you can contact us:
Drop-off and pick-up business service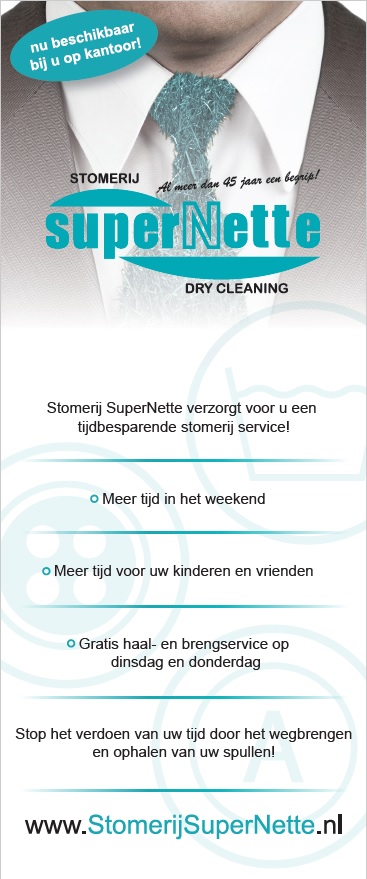 I would like to introduce you to the "drop-off" and "pick-up" office service of Stomerij SuperNette. We can collect company clothing or private clothing from your employees and return it cleaned from your office.
In addition to cleaning company clothing or private clothing, we can also offer your employees a clothing repair service.
This service will provide your employees with a lot of relief during the daily maintenance of corporate or private clothing. Your employees will be helped in a simple way to spend more time in their leisure activities.
In addition, you can assume that your employees are in peak condition! Dry Cleaner SuperNette has been a household name in Amsterdam and surroundings for more than 50 years. Our family business is professional, invaluable in experience and puts the well-being of the environment first.
You can expect us to treat corporate and private clothing with the utmost professional knowledge, caution and care. We only work with high-quality and environmentally friendly materials.
Our free drop-off and pick-up service is known by many companies (including DAS, SVB, the Amstel building, etc.) as very valuable and convenient for your employees. It is important to mention here that you as an employer have at least to worry about this. Communication will take place between your employees and SuperNette Dry Cleaning.
Would you like to know how we could organize this for your company? We are happy to visit you at your location to discuss the above with you.
Dry Cleaning SuperNette works to your advantage and will certainly not disappoint you and your employees!
Of course we can also take care of the laundry, steam and ironing of your office.